The Create Poser MATs script is a great free tool to creating Poser materials. The problem is, their pz2's don't always work. But the pz2 format is the only one you can use in both DAZ Studio and Poser.
This post is specifically for anyone who has been having the problem of pz2's not loading in Poser, while strangely loading fine in DS, or for those that have not used the script yet, to help them avoid this problem from the beginning.
Essentially, I fixed the problem by locating something within the pz2 file itself.
For those who have not looked at it, the .dsh file is only a help file. I've opened it in Notepad++ and could not find anything in there that would stop a pz2 from loading correctly once created, so installation goofs were not my issue.
I tried other pz2 MATs in Poser and they all load onto the same prop just fine. It was not a parenting issue.
So what did I do to fix it?
I changed "prop [insert prop name here]" to simply "actor $CURRENT" in notepad++.
And as you can see below, I can now use the pz2 in Poser!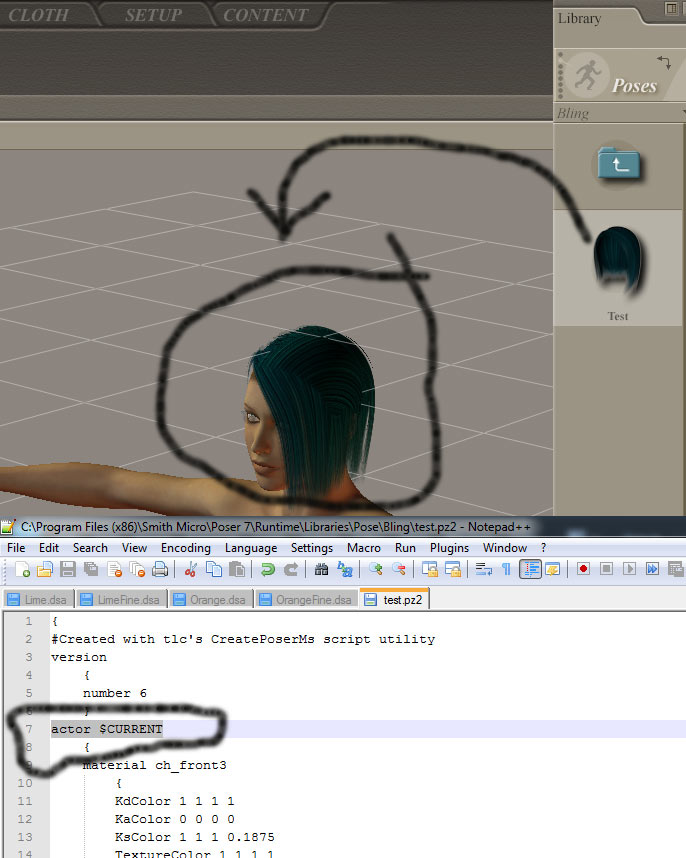 Note: I had some products in one of the marketplaces where I had to create new MATs because the original pz2's from the script apparently stopped working for the tester, while some other people reported those MATs were still working for them. Upon my testing the MATs, they did not work for me in Poser 7. In other words, using the original wording in the pz2, sometimes it works, sometimes it does not.
And if you have an entire directory to fix, you can save time with Notepad++'s ability to edit multiple files at once. Just hit control F, and choose Find in Files as below: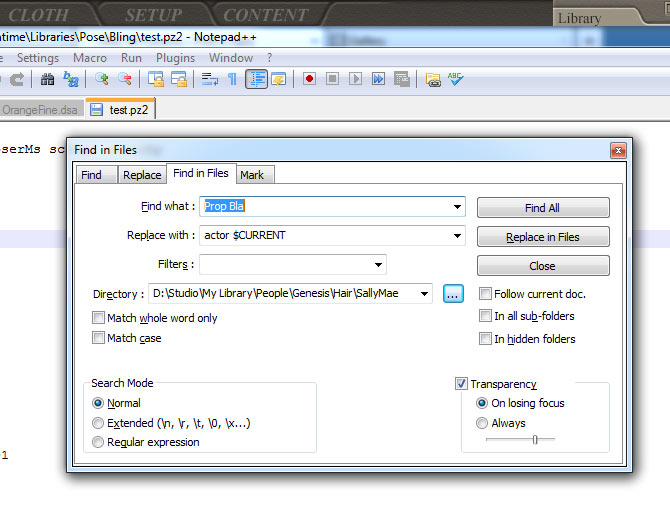 Well, I hope you have found this information somewhat helpful.
Cheers,

Tako